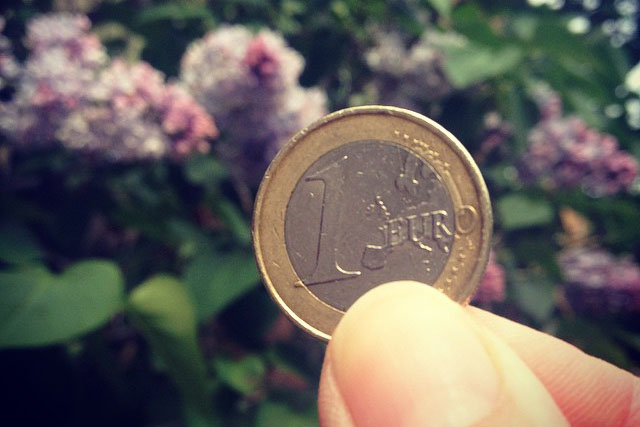 Finding a one euro coin in my building felt auspicious. And then I tried to unravel the world of Apostilles and it felt like 100 steps backwards. Warning, you might be bored by in-depth coverage of government paperwork, but trust me, this condensed version is 1/1,000 as painful as the real time.
When we were at the Finland Embassy in Ottawa, they said we needed to legalize our marriage certificate. She said that had we gotten married in Canada, she could have taken care of that at the Embassy. She made it sound like it could have happened on the spot at the Embassy, so I think I was originally confused about who does the legalization. She told me to contact the Finnish Embassy in the US to figure it out. So I was still under the assumption that the legalization was something that came from the Finnish government. Well, several calls and emails later I finally figured out that the Apostille, which is an international legalization of an event (marriage, birth, death) comes from the state in which the event took place. Maybe this was obvious to some people, but it took me awhile to figure out. With that information (tipped off from an email from the Consulate General of Finland in NYC – super nice to quickly respond to emails on a Friday afternoon!) I finally was on the right track. First I called Bexar County Clerk's office, where we got married. They passed me on to Vital Records (part of Bexar County Health Services). They do not answer their phone and at this point I was totally out of Canada-US phone minutes. So after some more digging, I figure out that they can't really help me, that the Apostille comes from the Secretary of State because I already had the original certificate. Sooooooo I sign up for a month of Canada/US skype calling (2.99, unlimited all month!) and call the Secretary of States office. Magically someone answers right away and knows exactly what I am talking about.
Yes, I can get an Apostille for my marriage certificate, just send it in with the form and a $15 US check. No problem. Oh, but wait. Since my marriage certificate is over 5 years old, I might have to get a new one from Bexar County because the clerk from my 2003 marriage certificate might not be in the system. At this point, I am ready to cry. Well, thank goodness for Bexar Co municipal employees who apparently never leave their jobs, both the County Clerk AND the deputy clerk are both still the same and still in the system. A phone call later, and the nice person at SOS said I didn't need a new certificate.
Ok, so now I am super excited. I know exactly what to do and it all seems manageable and the time frame still is ok. But at the Canadian Post office, we realize that I can't buy a pre-paid trackable envelope that has US postage on it. So I can get my documents to Texas from here, but I can't get them back to Canada. Looks like I might be driving across the border tomorrow to get this sent with the proper return postage-paid envelope.
On the bright side, I think we've found new tenants for our apartment so no more showings! Yay!